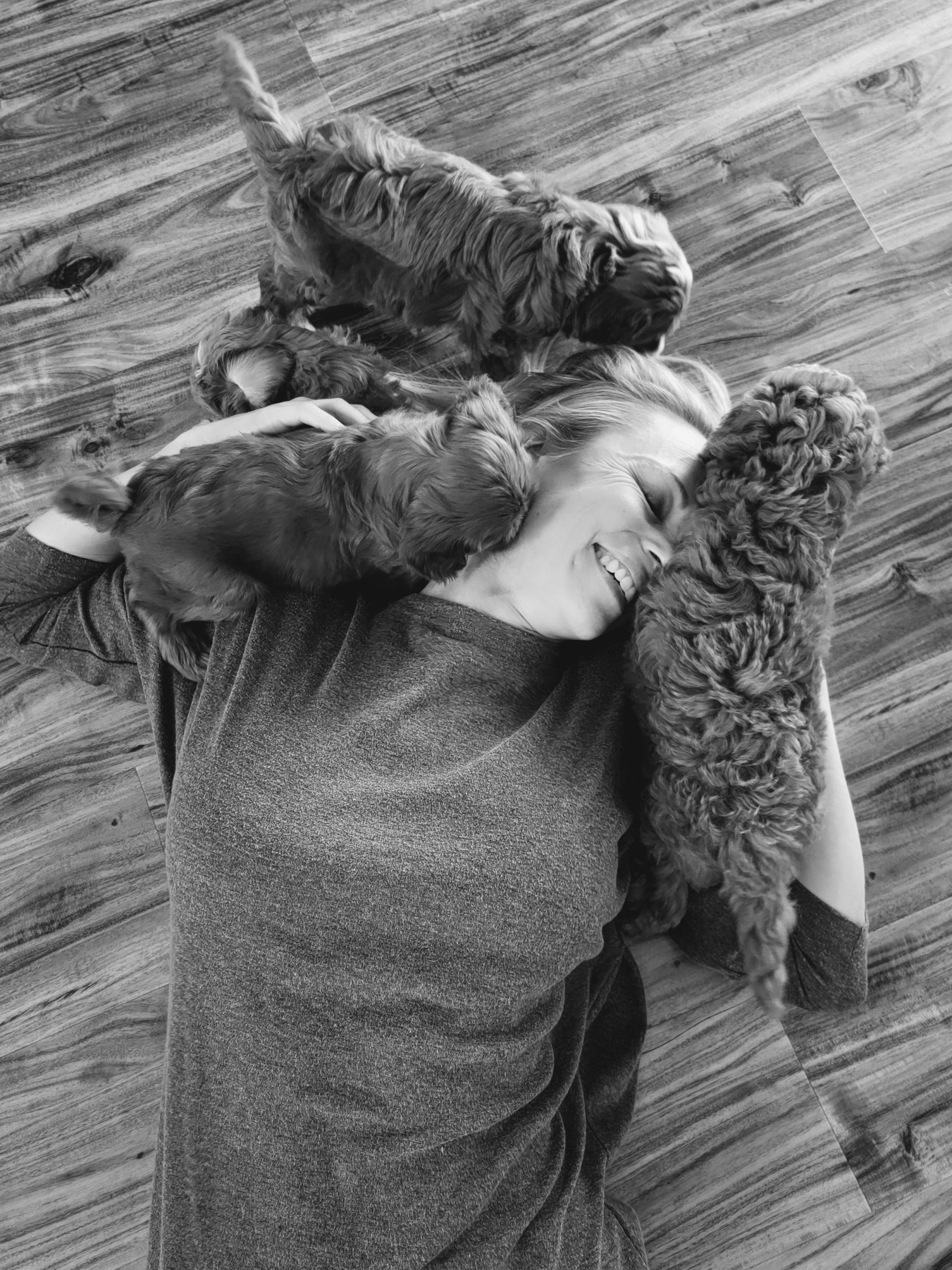 Our business was founded in 2020 with our first cavapoo mama, Mildred Wray "Millie". Millie's first litter of 5 was born just after her second birthday in January of 2022. Five months later we started our guardian program with three families and we look forward to creating healthy beautiful puppies for loving families.
We breed our animals to be healthy, have friendly dispositions, and fit in seamlessly as incredible family pets.
Hi there, I'm excited to share a little bit about myself and my family with you! I grew up in a rural town in Southwestern Virginia on a farm where my family raised cattle and had horses. I was lucky enough to have my own pony and spent many days of my childhood riding and caring for her.
When I was young, my parents bred black labs, and I have fond memories of playing with the puppies and observing my parents' nurturing care for them. Following high school, I enrolled at Virginia Tech, where I met my amazing husband, with whom I've been married for almost 20 years. We are proud parents of two soccer-loving children, an 18-year-old son and a 16-year-old daughter. As a stay-at-home mom, I've been dedicated to our family's well-being. Over the years, we've relocated twice, first to the Baltimore region in 2006 and then to the Raleigh, NC region in 2013, where we have happily settled.
My husband is a software engineer and enjoys 3D printing as a hobby. As for me, I've always had a desire to breed dogs and finally decided to pursue it in 2021. I never could have guessed just how much I would love it! I now have four female dogs that I breed, three of which live in guardian homes, including one with my sister-in-law who lives directly across the street from me.
Breeding dogs has been an incredible journey of discovery for me. From genetics and health testing to whelping, raising, and socializing puppies, I've loved every aspect of it. In fact, I've even developed my own curriculum for the puppies to give them the best possible start in life.
My passion for breeding has led me to pursue further formal education, and I am proud to say that I have been accepted into Purdue University's College of Veterinary Medicine. I am excited to continue learning about the science of animal health and welfare and use my knowledge to ensure that our puppies are happy and healthy.